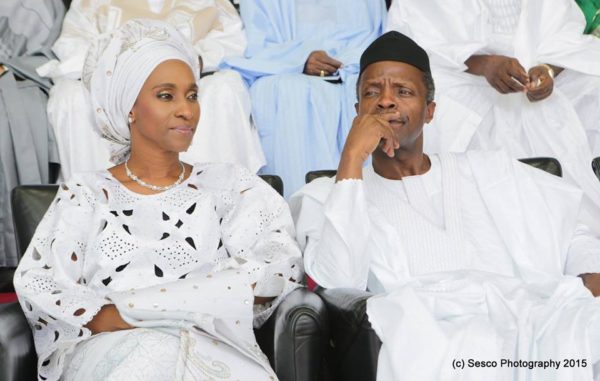 Dolapo Osinbajo and Her Husband VP Yemi Osinbajo
The wife of the Vice President, Dolapo Osinbajo, has called on Nigerians to establish more skills acquisition centres for the empowerment of women and young people.
Osinbajo made the appeal at the graduation ceremony of 810 participants in her pet project – Project Ayodele – in Owerri on Friday.
She said that the empowerment of women and youths would liberate them from economic hardship, subjugation and make them self-reliant.
She said that women were now a force to reckon with in nation building worldwide.
Osinbajo said that women had been relegated to the background as a result of ignorance of their potentials.
She said that Project Ayodele stemmed from Ayodele Foundation set up by the children of late Ayodele Soyode (Nee Awolowo), who passed away five years ago.
She said the foundation was set up to equip women and youths with skills that would make them self-employed.
She said that the objective of the training was to empower participants to achieve a good level of financial independence and provide effective support for their families.
She commended the wife of the Imo governor, Nkechi Okorocha, for uplifting the women in the state through her pet project and urged her to sustain it.
Speaking earlier, Governor Rochas Okorocha described the project as a well thought-out package meant to cushion the plights of women and youths.
"We do not have poverty in Nigeria but what we have is poverty of the mind and that of knowledge. I believe that if all the billionaires in this country create jobs for the youths and stop taking their funds abroad, there will be no more poverty, unemployment and corruption," he said.
The facilitator of the programme, Nkechi Okorocha, expressed gratitude to Osinbajo for empowering more than 800 people in the state in various skills.
She urged the beneficiaries to transfer what they learnt to others so that poverty would be eradicated in the state.
NAN reports that the wives of the governor of Abia, Nkechi Ikpeazu, and her Enugu State counterpart, Monica Ugwuanyi, attended the event.